23rd COSECSA Scientific Conference in Collaboration with Surgical Society of Ethiopia
AGM And Scientific Conference incorporating the COSECSA Examination and Graduation in partnership with the Surgical Society of Ethiopia
Theme: Technology, Innovation & Surgical Care In Africa.
Venue: Ethiopian Skylight Hotel
Dates: 4th – 8th December 2023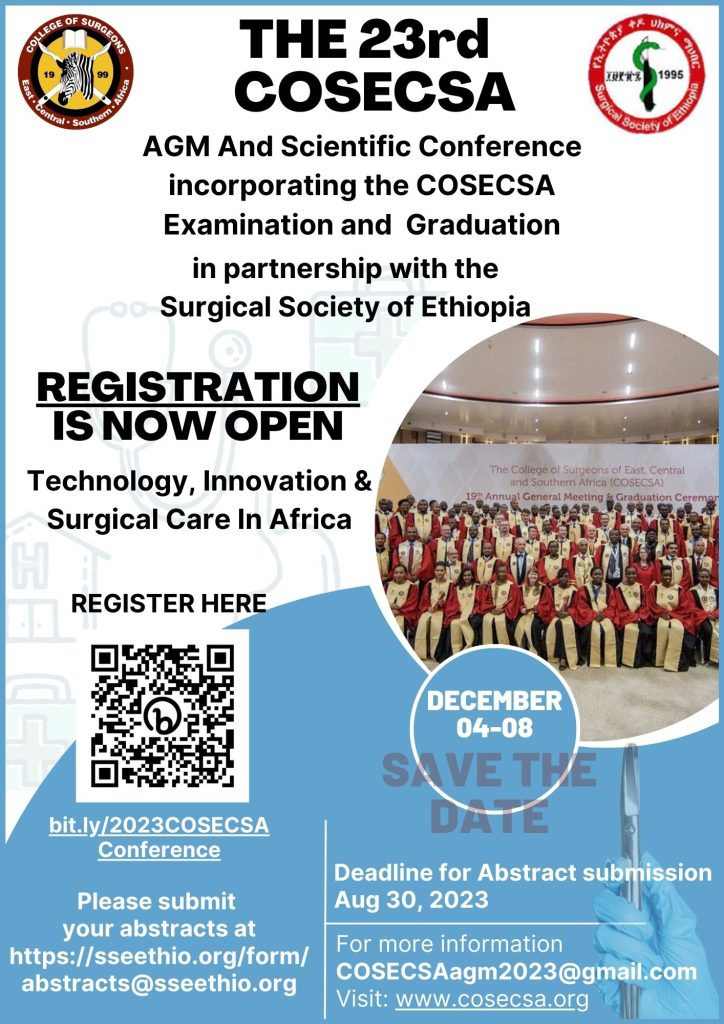 COSECSA 2023 Conference Main Programme
23rd COSECSA and 27th SSE AGM Pre-Conference CME Program and Fliers
History of Ethiopia with COSECSA
Ethiopia is one of the 14 COSECSA Member countries. Ethiopia has been an active member country with the following activities been conducted.
Ethiopia has 15 Accredited Hospitals.
Ethiopia has a total of 205 Fellows whose 156 are Fellows by Examination.
Ethiopia has a total of 117 surgeons who are on training currently.
Country Representatives & Coordinator
COSECSA-Ethiopia is currently under the leadreship of the two country representatives and one country coordinator namely:
Dr. Hannah Getachew
Dr Dereje Gulilat
Ms. Abigya Befikadu
COSECSA event will bring together leading surgeons, healthcare professionals, and stakeholders from across the region to explore innovative approaches and advancements in surgical excellence.
Theme: Technology, Innovation, and Surgical Care in Africa.