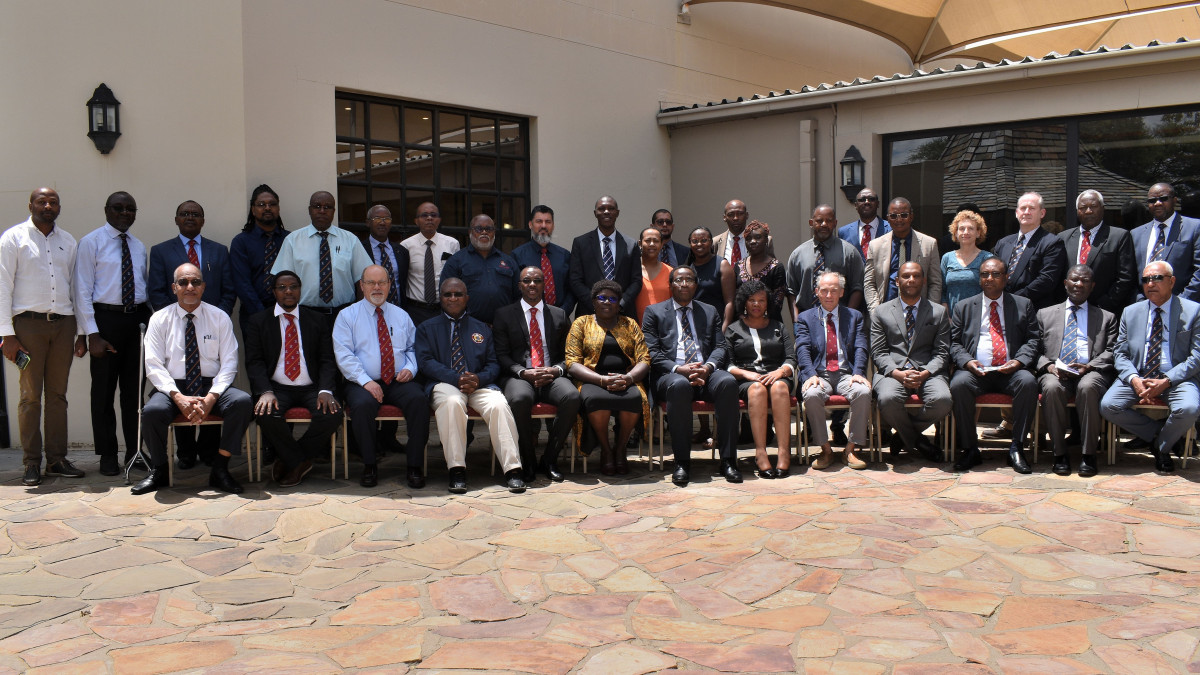 Dr. Fualal Jane Odubu: MbChB, M.MED[surg], FCS [ECSA], Dip. HLM
I am a distinguished member of the Foundation Fellowship and previously held a position in ASEA. Throughout my tenure, I served as one of the longest-serving CRs (Council Representatives) and successfully recruited numerous students for MCS (Membership of the College of Surgeons) and FCS (Fellowship of the College of Surgeons). In my role as the CR for Uganda, I dedicated myself to establishing recognition for COSECSA (College of Surgeons of East, Central, and Southern Africa) within Uganda. I played a pivotal role in designing the current ceremonial mace used during graduations. Additionally, I successfully organized two Annual General Meetings (AGMs) and several regional meetings between COSECSA and ASEA. I made it a personal goal to present papers at each AGM, contributing to the academic discussions.
Having been a member of FGPC (Finance and General Purpose Committee) for many years, I actively served as Treasurer for six years. During this time, I advocated for the development of Laki Laki land and continue to hope for its ongoing progress. As Vice President, the COVID-19 pandemic created challenges for various activities; nevertheless, I diligently attended all meetings and provided valuable insights. I have served as an Examiner since the inception of my involvement, and I also represented COSECSA as an External Examiner at WACS (West African College of Surgeons) and CMSA (College of Medicine of South Africa).
Currently, I hold the esteemed position of President, and over the next two years, my focus is to fulfil the goals outlined in the strategic plan. These goals include increasing the number of Fellows, improving the organization's financial stability, and strengthening the overall structure. I was actively involved in drafting this strategic plan.
Additionally, as the Patron of WiSA (Women in Surgery Africa), it is my mission to expand the organization's membership and enhance its influence and impact.
Prof. Godfrey Ignatius Muguti: MS(Syd) FCS(ECSA) FRCS(Edin) Cert. HPBSurg(RACS) Hon FRCS(Eng)
Professor Muguti is the immediate past President of COSECSA. He is the Professor of Surgery and Professorial Chair in the Department of Surgical Sciences at the University of Zimbabwe. He is also a Clinical Professor of Surgery in the Department of Surgery at Stanford University School of Medicine, USA and Medical Director of The Avenues Clinic in Harare. He trained in Zimbabwe, Edinburgh, U. K. and Sydney, Australia. He did a Fellowship in Hepatobiliary Surgery at Westmead Hospital, University of Sydney. His clinical and research interests are in general surgery and plastic and reconstructive surgery.
He established the Plastic Surgery training programme in Zimbabwe and has contributed substantially to the development of plastic and reconstructive surgery in the COSECSA region over the last 10 years in his role as Programme Director. He has worked as a Consultant Surgeon in Zimbabwe and the United Kingdom and has been Clinical Tutor at the Royal College of Surgeons of Edinburgh. Professor Muguti has served as a Commissioner on the Zimbabwe Health Review Commission and Foundation President of the Surgical Society of Zimbabwe. He is past Editor – in – Chief of the Central African Journal of Medicine. In 2016 he was invited to deliver the annual Rowan Nicks lecture at the Annual Scientific Congress of the Royal Australasian College of Surgeons and was awarded the College Medal.
He was awarded the Honorary FRCS(Eng) by the Royal College of Surgeons of England in 1998. More recently he was the featured guest speaker at the ReSurge International 2023 Transformations Gala in San Francisco, USA and was awarded the Donald R. Laub Humanitarian Award for his successful leadership as President of COSECSA. Professor Muguti has been the main driving force in the establishment of the University of Zimbabwe International Centre for Surgical Simulation.
Prof. Laston Chikoya  BSc, MBChB, MMed Surgery,MD Neurosurgery, FCS, IFAANS
Prof. Chikoya is the Deputy Vice Chancellor (administration) of the newly created Levy Mwanawasa Medical University in Lusaka, Zambia. He has been on the COSECSA Council since 2007. He served as Country Representative and is also the immediate past Chair of the Education, Scientific and Research Committee. Currently he is the Chairperson of the Institutional Review Board of College of Surgeons for East, Central and Southern Africa (COSECSA). Prof. Chikoya is a member of the Editorial Board, East and Central Africa Journal of Surgery. He is the immediate past Panel Head (program director) for Neurosurgery training in the ECSA region of 14 African Countries. He is also the immediate past president of the Surgical Society of Zambia.
Prof. Eric Borgstein is a pediatric surgeon, educator, and leader. For over 20 years, he has worked in Malawi increasing local surgical capacity through education and training. He is currently Professor of Surgery at the University of Malawi College of Medicine and consultant Pediatric surgeon at the Queen Elizabeth Central Hospital where he was instrumental in setting up its current surgical postgraduate training program. Prof. Borgstein is heavily involved in medical student, clinical officer, and intern and surgical resident training. He was previously the Chair of Examinations and Credientials Committee on the COSECSA and directs one of the few training programs in Pediatric surgery in Sub-Saharan Africa. Prof. Borgstein is currently working on the COST-Africa project which is an EU FP7 research grant studying surgical training of nonphysician clinicians in Malawi and Zambia.
Prof Abebe BekeleMD, FCS (ECSA), FACS, MAMSE
Prof. Abebe Bekele is Dean of the School of Medicine at the University of Global Health Equity (UGHE) in Rwanda. He has served as CEO of the Black Lion Teaching Hospital and Dean of the School of Medicine of Addis Ababa University in Ethiopia. He is a Professor of Surgery (General and Thoracic surgery) and has full professor faculty positions at UGHE, the Addis Ababa University and the University of Rwanda. He has received fellowships in Medical Education from the FAIMER institute in Philadelphia and in Simulation Based Education from the University of Washington. He has also graduated in Surgical Leadership from the Harvard Medical School. He has vast experience in medical and surgical education for more than 22 years and has served as visiting professor and external examiner in undergraduate and post graduate education in Ethiopia, Africa, and North America. He is a fellow of the Ethiopian Academy of Sciences and the Academy of Master Surgical Educators of the American College of Surgeons.
Professor Abebe is the Secretary General of the College of Surgeons of East Central and Southern Africa (COSECSA) and served as Chairman of the Examinations and Credentials Committee for the past 7 years, He is the and Editor-in Chief of the East and Central Africa Journal of Surgery and sits on the editorial board of the JAMA health forum and the Ethiopian Medical Journal. He has published more than 100 articles and book chapters and is a recipient of several regional and international awards and recognitions. He serves as a member of the advisory councils and boards of the Ethiopian Ministry of Sciences and Higher Education, the WHO council on Learning and Capacity Building in Health Emergences, the Global Surgery foundation and the African Forum for Research and Education in Health
Professor Abebe is actively engaged in Global Safe Surgery and has served as a senior advisor to the Federal Ministry of Health, Ethiopia in the Saving Lives Through Safe Surgery initiative. He is passionate about equitable access to surgical care, care, gender equity in global surgery and surgical education. His research interest include trauma, surgical oncology, equity in global surgery and education.
Assistant Secretary General
Dr. Celestine B Mbangtang. MBBS  (Ibadan); DA (Ibadan); MMed (Surgery) Zimbabwe; FRCS (Edinburgh); FCS (ECSA); FICS.
General Surgeon with interest in Breast & Endocrine Surgery; Pain Management and Palliative Care. University of Namibia.
Dr Kitugi Samwel Nungu MD. Dip Trop Medicine – Cuba, MMed. Phd Othop. Dip Epid and Biostat.- Sweden. FCS (ECSA)
Dr Nungu is a Lecturer at Muhimbili University and a Consultant at Muhimbili Orthopaedic Institute Dar es Salaam. Tanzania. He was an active ASEA fellow then became a founding COSECSA fellow. He is sitting President Tanzania Orthopaedic Association; Past President Tanzania Surgical Association and Currently Country Representative of COSECSA in Tanzania and Panel Head Orthopaedics – COSECSA.
Examinations and Credentials Committee - Chair
Dr Hanna Getachew MD, FCS (ECSA)
Education, Scientific and Research Committee - Chair
Dr Michael Mwachiro MBChB, MPH, FACS, FCS (ECSA)
Dr. Mwachiro Is a consultant General surgeon and interventional endoscopist. He is the current chair of the Education, Scientific and Research Committee. He is the current Vice President of the Surgical Society of Kenya. He has previously served as the country rep for Kenya and Secretary General of the Surgical Society of Kenya. He is a founder member of the African Esophageal Cancer Consortium. His research interests are in gastrointestinal cancer with a focus on esophageal cancer and surgical education. He is an alumnus of the Surgical Education and Leadership Fellowship program of the Association of Surgical Education. He is also an alumnus of the University of California Global Fellowship from the Fogarty International Institute as well as the African Cancer Leaders Institute. He is on the editorial board of several journals including Gastrointestinal Endoscopy (GIE) of the American Society of Gastrointestinal Endoscopy, is an assistant editor of the Annals of African Surgery and recently the Editorial board of Global Surgical Education the official journal of the Association of Surgical Education. He is a COSECSA Master Trainer and has conducted several training sessions both for COSECSA and our sister colleges CANECSA and ECSACOG.
Finance and General Purpose Committee - Chair
Dr Mulwafu trained as an ENT Surgeon at the University of Cape Town. He works as an ENT Surgeon at Queen Elizabeth Central Hospital and as a Senior Lecturer in the College of Medicine, Malawi. He was Dean of the Faculty of Medicine from August 2013 to March 2015. He has been COSECSA Country Representative for Malawi since 2009.
COSECSA Council Country Representatives
| # | Name | Position | Country |
| --- | --- | --- | --- |
| 1 | Dr Bothwell Mbuwayesango | Country Representative | ZIMBABWE |
| 2 | Dr Kevin Nduku | Country Representative | ZIMBABWE |
| 3 | Dr Gazombika Gallina | Country Representative | BURUNDI |
| 4 | Dr Venerand Barendegere | Country Representative | BURUNDI |
| 5 | Dr Woubedel Kiflu | Country Representative | ETHIOPIA |
| 6 | Dr Atakilte Baraki | Country Representative | ETHIOPIA |
| 7 | Dr Karen Mbaabu | Country Representative | KENYA |
| 8 | Dr Mathenge Nduhia | Country Representative | KENYA |
| 9 | Prof Emmy Nkusi | Country Representative | RWANDA |
| 10 | Dr Georges Ntakiyiruta | Country Representative | RWANDA |
| 11 | Dr Mayen Achiek | Country Representative | SOUTH SUDAN |
| 12 | TBC | Country Representative | SOUTH SUDAN |
| 13 | Prof Ahmed Elsayed | Country Representative | SUDAN |
| 14 | TBC | Country Representative | SUDAN |
| 15 | Dr Joel Kiryabwire | Country Representative | UGANDA |
| 16 | Dr Jehoshaphat Jombwe | Country Representative | UGANDA |
| 17 | Dr Paul Kisanga | Country Representative | TANZANIA |
| 18 | Prof Kien Alfred Mteta | Country Representative | TANZANIA |
| 19 | Dr Gift Mulima | Country Representative | MALAWI |
| 20 | Dr Tiyamike Chilinjuka | Country Representative | MALAWI |
| 21 | Dr Vanda Amado | Country Representative | MOZAMBIQUE |
| 22 | Prof Sergio Salvador | Country Representative | MOZAMBIQUE |
| 23 | Dr Celestine Mbangtang | Country Representative | NAMIBIA |
| 24 | Dr Akutu Munyika | Country Representative | NAMIBIA |
| 25 | Dr Seke Kazuma | Country Representative | ZAMBIA |
| 26 | Dr Colin West | Country Representative | ZAMBIA |
| 27 | Dr Steven Mannion | Overseas Representative | UNITED KINGDOM |
| 28 | Prof Sherry Wren | Overseas Representative | USA |
| 29 | Dr Mpapho Mostumi | Country Representative | BOTSWANA |
| 30 | Dr Lesetedi Chiapo | Country Representative | BOTSWANA |
| 31 | Dr Mumba Chalwe | WiSA chair | ZAMBIA |